Alisa (Chaichana) Akroush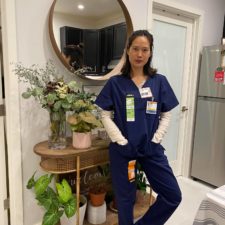 "I currently work as a registered nurse in ICU/PCCU unit at one of the hospitals in Los Angeles County, California, USA. My journey in this profession has been so long and was not easy. But I am so grateful and proud of where I am at today. And I can proudly say that without our beloved ABAC Nursing school, I would not be here today. I always get support, help, and encouragement from my juniors, friends, seniors ,and more importantly, our beloved Ajarns. Right after I graduated, I got accepted in ER position at one of the best hospitals in Bangkok. ABAC nursing school has always had a good reputation when it comes to applying for jobs.
I never get nervous when I'm interviewed in English. Our nursing school has taught me strong English communication skills. After a year of ER experience, I decided to give myself a chance to try something new in life. I applied for a flight attendant position in one of the best airway companies in Thailand. My TOIEC score was 800+ with 2 weeks of preparation. I remembered myself working night shifts and doing self-studying during down time. I was pretty proud of my score. I passed all the test and interview and I got in. During the time of working as a flight attendant, my calling for nursing never left me. I eventually resigned after one year and decided to pursue my next destination 'California RN'
I can't stress enough how much help and support I got when I was applying for the NCLEX. Our beloved Ajarns and my nursing friends helped me accelerate process of all the paperwork I needed until everything went through on time. Without them, things seemed impossible because at that time, I have already moved to the US. Now my dream has come true. I am a critical care nurse in California. I have nothing special than others. It all has come true because of hard working, being steadfast, knowing what you want and never ever give up until you reach where you want. I am here to encourage all of you that if I can do it, you can do it too. Everyone has their own life story. We all have different obstacles, I have mine too. But, if we keep looking up and walking forward, I promise you, nothing would ever be able to stop you.
Be elegant but humble, be soft but strong. Always say a prayer, trust in God and He will listen to you. God bless you all!"
Position: Registered Nurse
California, USA